Find a location near you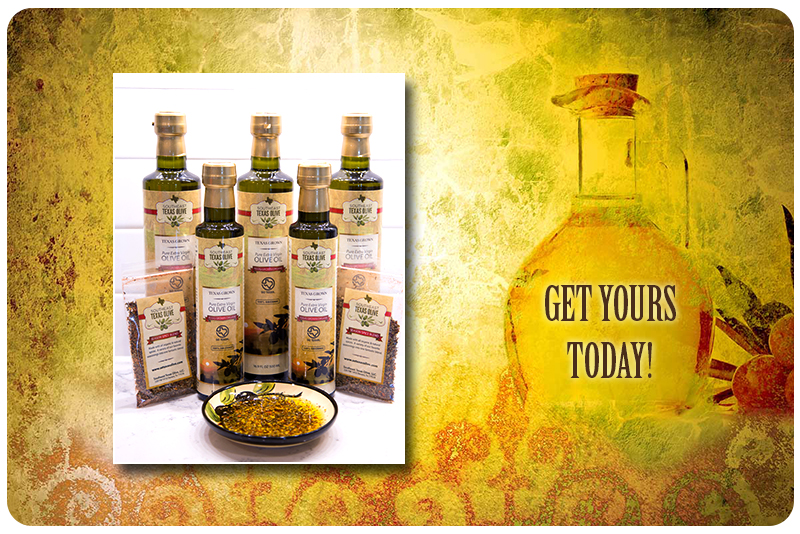 Southeast Texas Olive oil can be purchased in 8.5 fl oz/250 mL and 16 fl oz/500 mL bottles at locations indicated below.
Many local businesses in Southeast Texas carry our 100% organic extra virgin olive oil. Scroll down to find a location near you. You can also make your purchase online for direct shipping or purchase online and arrange a local pickup at our orchard.
100% Organic Extra Virgin Olive Oil… very healthy, fresh and tasty!
Basic Foods
The Oaks
229 Dowlen Road
Beaumont, TX 77706
(409) 861-4424
Jack's Pak-It
4505 Calder Ave
Beaumont, TX 77706
(409) 892-6345
Seafood Lover
4389 Calder Avenue
Beaumont, TX 77706
(409) 892-1093
Hardin Feed Store
11135 Hwy 146 N
Hardin, TX 77561
(936) 298-2050
Spec's Downtown Smith Street
2410 Smith Street
Houston, TX 77006
(713) 526-8787
Cork & Press
523 East 3rd Street
Lampassas, TX 76550
(512) 564-5158
Carol Bond Health Foods
334 Main St
Liberty, TX 77575
(936) 336-9001
Liberty-Dayton Area Chamber of Commerce
1801 Trinity Street
Liberty, TX 77575
(936) 336-5736
Mont Belvieu Farmer's Market
10900 Eagle Drive
Mont Belvieu, TX 77523
Thrif-Tee Food Center
10955 Eagle Drive
Mont Belvieu, TX 77580
(281) 576-5040
The Crooked Antler
9675 Eagle Drive, Suite 108
Mont Belvieu, TX 77523
(281) 576-5611
Linda's Seafood
5120 FM 565
Baytown, Tx 77520
Winnie Farm and Ranch
524 Farm to Market Road 1406
Winnie, TX 77665
(409) 296-2516